How Does Apple Card Stack Up Against Other Cashback Credit Cards?
Apple Card is one of the most buzz-worthy credit cards in the market. The card has a slick, mobile-first interface and incentivizes cardholders to use Apple Pay by giving them 2% cashback on purchases. Apple Card also offers 3% cashback on purchases made with Apple and a handful of other merchants.
But how does Apple Card stack up against competitors in this space? According to the latest Credit Card Value Index rankings, Apple Card ranked 80th out of the 250 cards in the Index. Among no annual fee cashback credit cards, Apple Card ranks relatively low in this category at number 15 in the Index.
The Credit Card Value Index takes four factors into account when scoring cards:
Rewards
Fees
Acquisition Offers
Benefits
According to our estimates, Apple Card customers can earn as much as $934 in rewards over two years. The Index assumes that the majority of point of sale purchases using the Apple Card take advantage of the accelerated rewards for using Apple Pay; this includes grocery, gas, and other physical retail purchases, as well as mobile wallet spending.
Apple Card does not have a new customer acquisition offer, so its score suffers compared to cards like Chase's Freedom Unlimited and the Discover It Card. These cards have significantly higher two-year earnings potential than Apple Card. Chase Freedom Unlimited cardholders can earn as much as $1,330 over two years, including the $200 new customer bonus offered in August. The Discover It Card similarly has a higher two-year earn rate, with cardholders potentially getting $1,155 in rewards, which includes Discover's unique first-year Cashback Match offer.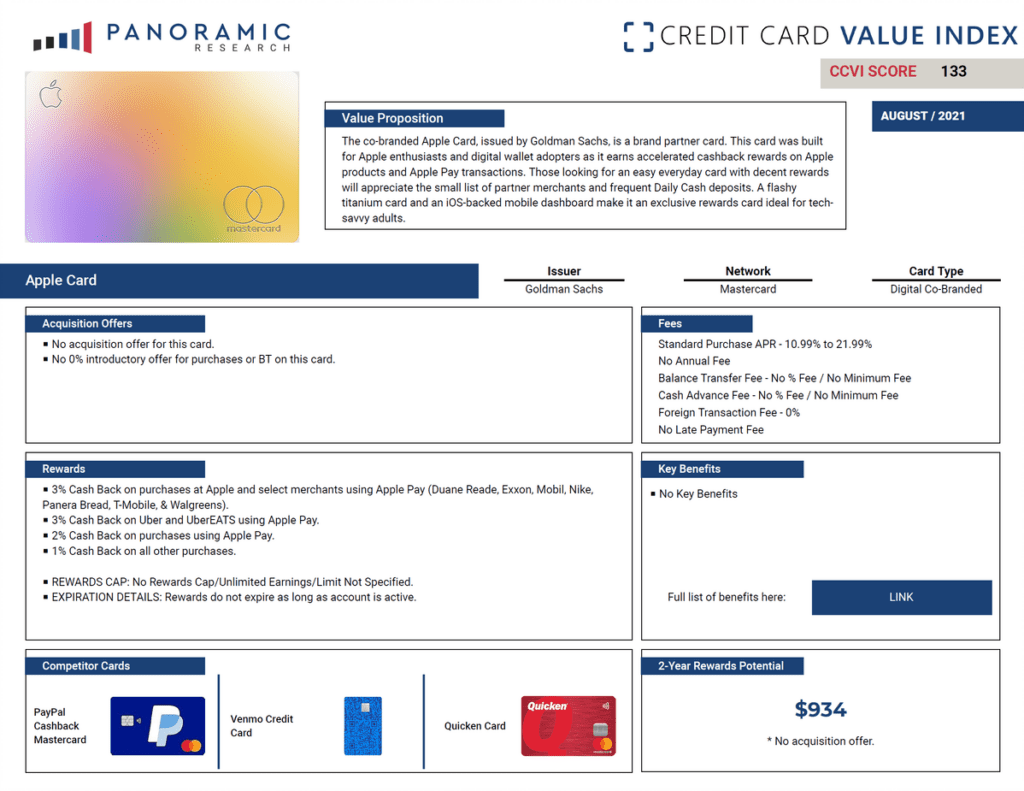 When it comes to rewards, the Apple Card has been criticized for its less-than-generous rewards. In categories where consumers can't use Apple Pay, such as merchants like Amazon.com, the card earns a flat 1% cashback on purchases. Compared to the new Wells Fargo Active Cash Card, which gives 2% cash back on all purchases, the Apple Card falls short in its rewards potential.
The Apple Card does get some points in the Index for its unique Daily Cash feature. Where most rewards cards make the cardholder wait until the end of their billing cycle to earn rewards, Apple Card's Daily Cash gives cardholders almost real-time rewards earnings.
Benefits are another area where competing cards are better than Apple Card. The card lacks purchase protection, return protection, extended warranty, cell phone protection, and other benefits that can be found on no annual fee cashback cards like American Express Blue Cash Everyday and Wells Fargo Active Cash cards.
Apple Card provides the greatest potential value for customers that tend to spend a lot each year on Apple products and with its preferred 3% cashback partners. But when compared to other cards based on the average spending of American consumers, Apple Card ranks low in the cashback rewards segment.
The top no-annual fee cashback cards in the latest Credit Card Value Index update are:
#1 Chase Freedom Unlimited CCVI Score: 175
#2 Chase Freedom Flex CCVI Score: 173
#3 Discover It NHL CCVI Score: 160
#4 Discover It Cashback CCVI Score: 158
#5 Wells Fargo Active Cash Card CCVI Score: 153
#6 Navy Federal cashRewards CCVI Score: 152
#7 Citi Custom Cash Card CCVI Score: 149
#8 SunTrust Cash Rewards Card CCVI Score: 149
#9 U.S. Bank Cash+ Visa CCVI Score:147
#10 Citizens Cash Back Plus CCVI Score: 147
#11 HSBC Cash Rewards Card CCVI Score: 145
#12 Regions Cash Rewards Visa CCVI Score: 139
#13 Fidelity Rewards Visa CCVI Score: 138
#14 Fifth Thrid Preferred Cash CCVI Score: 134
#15 Apple Card (Goldman Sachs) CCVI Score: 133
---
To learn more about the Credit Card Value Index, contact us:
Mark Broderick
Principal Analyst, Panoramic Research
813-699-3939