How Chase's Sapphire Reserve Jumped to the Top Credit Card in the Credit Card Value Index
Panoramic Research began compiling data on the top credit cards in January 2021 using our unique methodology. Our new product, the Credit Card Value Index, takes four factors into account when calculating the value of credit cards:
Rewards
Fees
Acquisition bonuses
Benefits
Each month, we calculate the scores for the four components to develop a single Credit Card Value Index score. While the Sapphire Reserve Card has consistently ranked in the top five credit cards, the new benefits and more generous accelerated rewards on travel and dining booked through Ultimate Rewards helped propel it to the top spot in the latest update. The card closely competes with American Express' Platinum Card and U.S. Bank's Altitude Reserve Infinite card.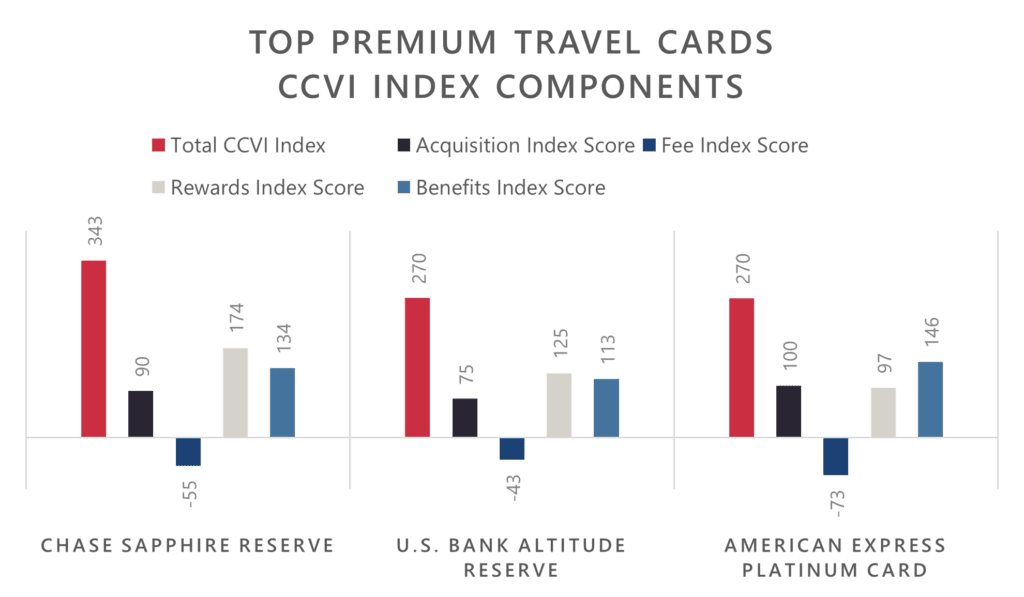 Based on our spend analysis, Sapphire Reserve cardholders can earn $2,637 over two years. This compares to $1,998 in potential rewards earnings for U.S. Bank's Altitude Reserve card and $1,965 earnings over two years on the Platinum Card. These estimates are based on the Credit Card Value Index spending model and include any card acquisition bonuses.
What Helped Sapphire Reserve
The Credit Card Value Index score for Sapphire Reserve jumped in August as a result of increases in the rewards and benefits score components:
The card added accelerated earnings for travel and dining purchases through Ultimate Rewards. Cardholders now earn 10X points on hotels and car rentals booked through Ultimate Rewards, as well as 10X points on dining booked through the issuer's rewards platform. The rewards index component went up more than 60 points from the previous month as a result of the increased earnings from accelerated rewards.
The benefits component of the index increased slightly from the previous month with the addition of a couple of new benefits.
Despite the new benefits on Sapphire Reserve, the Platinum Card still has a higher benefits index component score. The Platinum Card added an annual credit for CLEAR, which supplements Global Access/PreCheck credit.
Sapphire Reserve has a lower annual fee than the Platinum Card, while offering several similar benefits.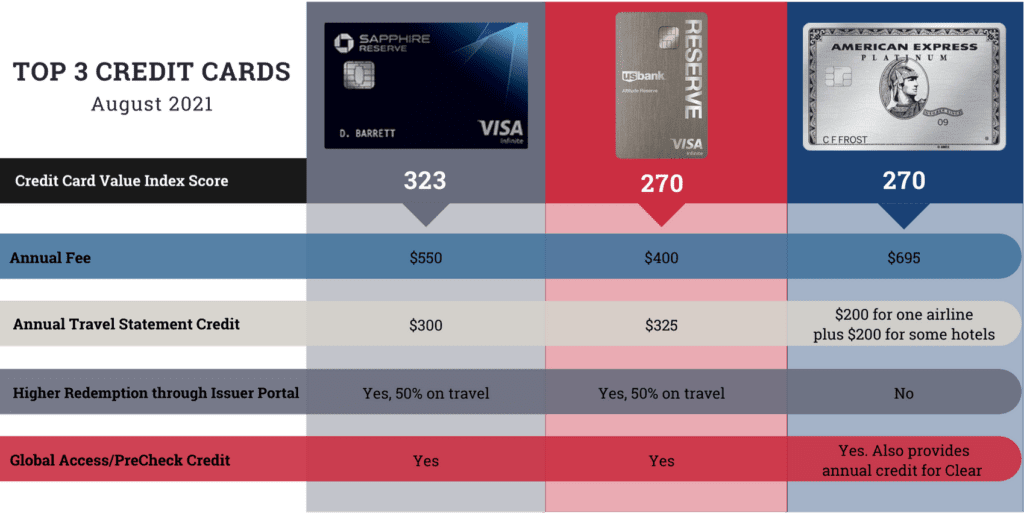 Sapphire Reserve is the first card with a combined index score of more than 300 since Amex's Delta SkyMiles Reserve card hit the mark in May.
---
To learn more about the Credit Card Value Index, contact us:
Mark Broderick
Principal Analyst, Panoramic Research
813-699-3939